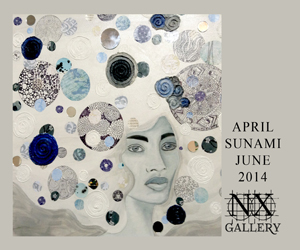 In her own words:
For several years I have painted women with fanciful hair and/or body coverings (i.e. burka, hijab, veil, etc). When I first started painting this theme I was interested in exploring the beauty of the female face and combining it with flowing shapes to represent hair or the covered form of a body. I'm still engaged in the idea of coupling the abstract with the figurative, but now I'm also preoccupied with the larger theme of contrasts. Representational/abstract, light/dark, high/low, decorative/substantive, symmetry/asymmetry, material/idea, intuition/intellect, power/impotence, Western hegemony/marginalization, universal/specific and process/result are few of the dichotomies to which I attempt to bring balance.
As a foundational base of my paintings I utilize oil and acrylic mediums. I render the faces and flesh in oil and I use acrylic to paint the ground palette of the body, clothes, and background. I love the organic and sensual quality of oil paint, but I also appreciate the fast and flexible properties of acrylic. To build texture I use everything including paper beads, collage, fabric, cork, post it notes, potpourri, mirrors, stones, breakaway glass from car accidents, and anything else I can affix to a surface (I'm still working on a good adhesive to incorporate a kitchen sink!).
Like most artists, making art is a means of creating emotional and spiritual harmony and thus a means of staying sane. My paintings are an expression of my attempt to bring internal conflicts into balance and agreement. I present it to other people in hopes that it might be a cathartic experience for them. It is my overall objective to create the kind of unity in painting that has a visceral effect on the viewer.