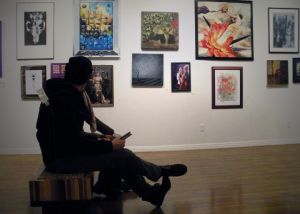 View the CS Gallery Exhibit Archive
View the NX Gallery Exhibit Archive
For five years (2010 – 2015) the CS mission was to proudly provide an opportunity for artists of all levels and genres to present, market, and sell their works. As working artists and educators supporting any and all working artists; we believed that mentoring new artists, networking, and creating an experience for patrons is just as important as profits. CS worked to be a full service gallery at an economical price for the artist and the patron.
Former gallery owner Daniel Colvin is an experienced artist making handmade paper, printmaking, etching, drawing and is still making art everyday. Check out more about Conbenick Studios below.
At Cobenick Studios
Cobenick Studios (CS) is located in lovely Forest Park, 1753 Ivyhill Loop N., Columbus, OH 43229.
This paper-making studio is where handmade pages are created and used in leather hand-bound journals, stationery, cards, or as free sheets for purchase. There are also studio spaces for fine printmaking.
Cobenick Studios is your source for fine handmade paper products and all book conservation and repair needs.
Also at Cobenick Studios
Workshops and classes
Kids Camps
Participation in local festivals
Community art projects
Wedding services: Calligraphy, invitations, guest books, photo albums
Stationery accessories: waxes, seals, inks, pens, quills