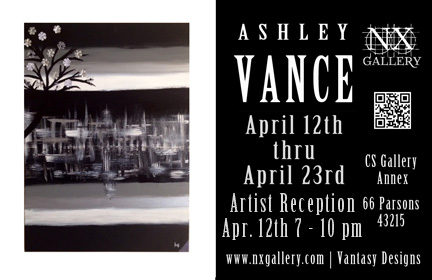 In her own words:
The Freedom of Movement
My artistic perception starts with Freedom leaving no boundaries or limitations on creativity, with a primary viewpoint in the abstract realm. My art expresses movement and fluidity taking you on an endless journey through the dimensions, waves of color, and somber lines of a freedom movement through art expression. I invite people to get lost in individual perception as you walk away with your own understanding of what freedom means to you.
I love to paint it is my peace, and allows me to go on a voyage every time I pick up the brush. With no restraints, rules, or confinements I paint as a form of self expression. Imagine a world where the only way to communicate was through art. My paintings allow me express myself without words because art is a silent language that speaks volumes. I want you to walk away with what art means to you, and allow it to take you on your own individual journey. Indulge in these vibrant, colorful, modern statement pieces that speak in the midst of silence. Join my creative movement and let art free your mind.
Yours Truly,
Ashley Vance
Featured Artists: ˇ
More on this Amazing artist coming soon!