ackac
---
Upcoming 2023 Workshops :
---
Project Lab at Idea Foundry: Basic Book Binding & Repair – 7/27, 8/24, 9/21, 10/26, 11/30
Thursdays, 7/27, 8/24, 9/21, 10/26, 11/30, @ 6:30 PM
Tickets:
Idea Foundry Member – $90
Non Member – $105
All supplies included – Click Here to Register
Just like basic maintenance on your home does not require a contractor, basic maintenance for your personal library does not require a specialist!
In the first portion of this class, participants will receive a brief introduction to the terminology, beginner level tools, and techniques of bookmaking; as well as completing a small basic booklet in a hands-on work session. Your book will be 5″ x 7″ with blank pages and the cover can be blank, or if time allows, embellished.

The second portion of this workshop will take the previous techniques and use them to introduce basic maintenance and repair techniques for your books at home. Participants are encouraged to bring a book (paperback, hardcover, or both) of no sentimental or fiscal value to work on, thrift store finds are great for this. Personal books that you would like to show, discuss, or receive consultation on are also encouraged.

Supplies will include take home tool kit and literature for supplies and follow up research.
---
---
Artist Residencies
Programs Available:
Sculpted Paper Mural (Grade levels K-12)
A collaborative project becomes a permanent artwork for the school. This project is designed to encourage students to think outside the box about what is art, what is sculpture, and is that really paper!
With artistic direction students will apply several colors of raw paper pulp to a large board and then process the pulp; so that when dry it will become a solid sheet of paper art. Pulp is made from an acid free recycled cotton rag that has been colored with a paper pigment which is also acid free. The scale and size of the mural will depend on the site. The range of 4' X 4' to 4′ X 8″ can be completed in one day depending on the number of participating students and complexity of the design. The piece will then be allowed to dry and the color and texture will change as the mural cures. At the end of this curing process the mural will be solid piece of paper art .
Each piece is individually designed in collaboration with staff to enhance the school curriculum and site. This is a great cross curriculum project that embodies science, math, history, and social studies. This program often requires an extended stay by the artist.
ACTIVITY OPTIONS:
School Visit

Duration: 45-50 min. per class
Fees: $175/half day; $250/full day – plus supplies ($1.50 average per student)
Requirements: Water source, tables, electricity. Design and planning session with art teacher. NOTE: Floors will get wet.
Sheet Hand Papermaking with optional Tapestry Mural (Grade levels K-12)
An introduction to the artist and his work, and an interactive discussion of how we all use paper, how it impacts our lives, and historical reference to life without paper. A demonstration of papermaking from pulp preparation to the finished sheet is followed by a hands-on activity in which each student makes a piece of paper using his or her own pulp recipe and technique. Ideas for follow-up activities, how to use the paper when dry, and a question and answer period conclude the session. This activity can be combined with mural making as a great management activity while the groups rotate or be divided into two one-day sessions: to make their own paper, and after the paper is dry, the artist will return to help the students embellish their work to complete a tapestry or sewn mural.
ACTIVITY OPTIONS:
School Visit

Duration: 45-50 min. per class
Fees: $175/half day; $250/full day – plus supplies (fees vary with project)
Requirements: Water source, tables, electricity. NOTE: Floors will get wet.
in-studio
---
Paper Workshop –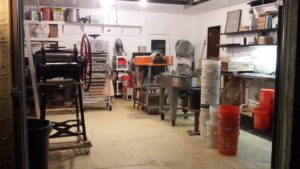 "Paper for all Artists" – All levels welcome
In this fun afternoon session we will introduce traditional and experimental paper making techniques. The traditional process of making paper is centered around the concept of catching and separating beaten plant fibers from a vat of water. Pulp is strained from the vat of water by a screen stretched on a frame. Sculptural and experimental techniques will also be introduced.
This Class Includes:
Complete Instruction and Info packet for home use All equipment and supplies
You Will Learn:
How to make a mould and deckle
How to process paper pulp
How to make a sheet of handmade paper
How to make colored paper
How to mold paper into sculptures using plaster castings
How to incorporate paper making into other art forms
You Will Need:
$30.00 Fee – cash, check, or charge payable at check-in
Several Newspapers (to transport finished paper home to dry)
The desire to make a mess
All other supplies included
This workshop has one afternoon session: Noon – 4 p.m.
Meet and Greet w/ refreshments at 11:30 p.m. – Beginners welcome!
Workshop is limited to first 10 participants.
message Daniel or call 614 260 2021 to make your reservation.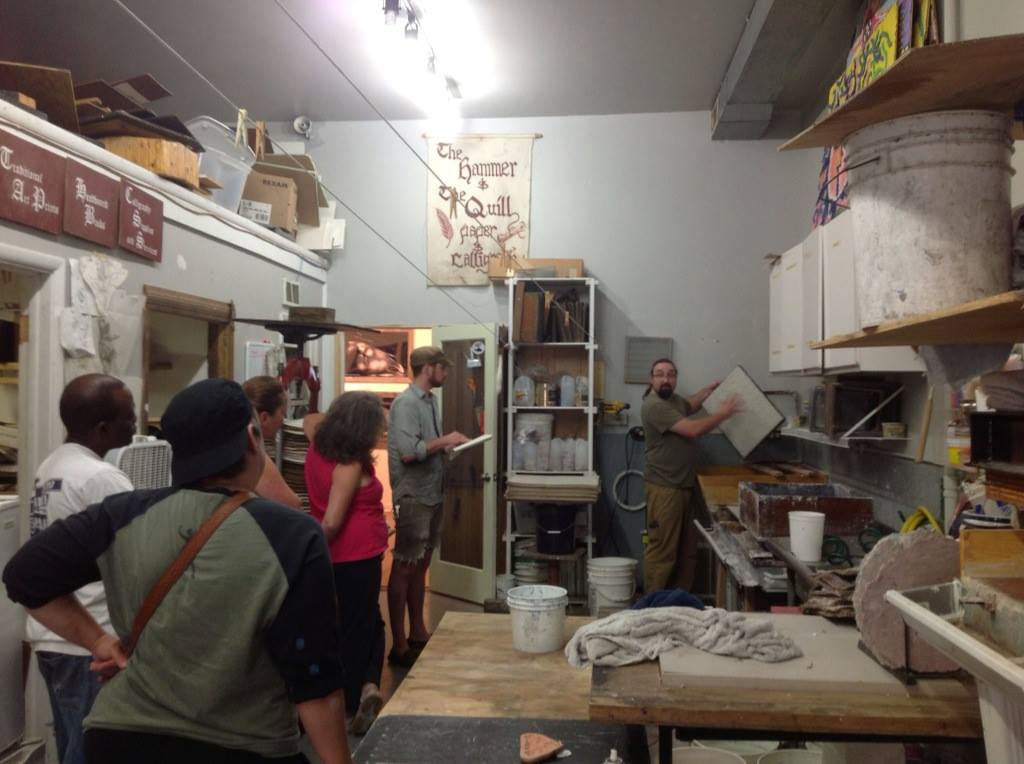 fest
---
We would love to be a part your Fest!
Daniel has been teaching, demonstrating, and creating at festivals all over the tri-state area for over 20 years. Whether it is a cultural demonstration or a full blown hand-on activity for the community he has you covered! let's collaborate and make something amazing for your festival season!
Here is our paper machine and sculpted paper tile hands-on activity at the Columbus Arts Festival!